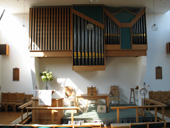 Emmanuel Church Redditch
NOW REDIRECTED TO https://emmanuelredditch.church
Sunday Worship
10:30 am and 6:00 pm

Holy communion is celebrated in the morning service on the first Sunday of each month, and in the evening service on the third sunday in the month.
Services of prayer for healing are held regulary
All age worship services are regularly arranged on an ecumenical basis
Our worship embraces a mixture of modern and traditional songs and hymns.
Mid-Week Worship
11:00am every Thursday

An informal act of worship on a regular pattern
Includes a mixture of music and meditation, holy communion, prayers for wholeness and prayers for peace and justice
Mid-Week Groups
A variety of groups meet in peoples homes for Bible study, prayer and fellowship
Many people find them to be a rich place for sharing and asking questions, for mutual support and growth.
© 2014 Emmanuel Church Redditch