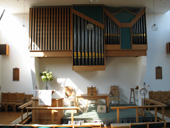 Emmanuel Church Redditch
Church Groups
Several groups meet during the week.
Fellowship groups meet in various homes during the week.
Craft Club
Meets fortnightly on Wednesday afternoons from 2-4pm in the Narthex, the Reception area of the Church. It engages in a range of projects from making Nativity scenes and decorations for the Church Christmas tree to knitting blankets and jumpers to send abroad. It also takes part in
the Samaritan's Purse Christmas Shoe Box project.
Contact - Pat Blount - via Church Office.
*Tots * Co
A weekly group especially for the under 5's and their parents/carers. It runs from 9.30-11.30am and costs just £1 per session and is held on Floor 2 of the Ecumenical Centre which has lift access. A warm welcome to all, alongside play with toys, crafts, rhyme, story-time and refreshments.
© 2013 Emmanuel Church Redditch